L'Auberge is really hopping these days. Nearly every day it is likely that Show Stoppers will be seen either setting up weddings, delivering special orders for guests or quality checking weekly standing orders in the restaurants, lobby, housekeeping and key areas on property.
This New Years Eve wedding was lovely. Here are a few of the details we though you might enjoy.
Our wedding party is all set for a romantic black and white themed New Years Eve wedding….
… high up on the hill at Spirit Song Terrace that overlooks L'Auberge with incredible unobstructed views. Most brides choose from one of our several pedestal selections topped with a beautiful floral design that can be moved and repurposed for the reception.
Our beautiful bride wanted a very large, unstructured bouquet with long exposed stems. Larger bouquets seem to be trending with Show Stopper's brides.
A very feminine, textural centerpiece was perfect for the evening.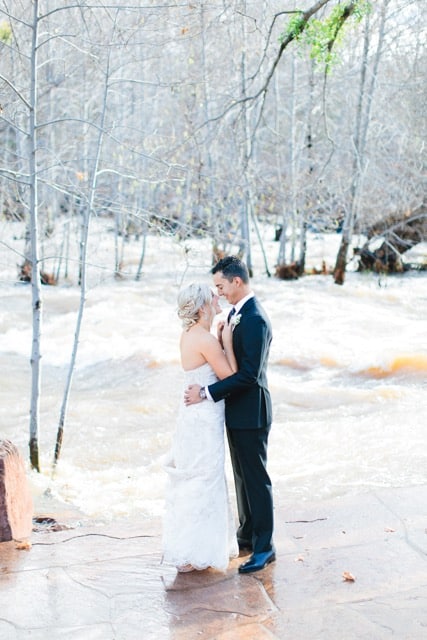 The day after the wedding, Oak Creek was rushing in full force from the snow melt higher up in the canyon and Flagstaff. It was a great time for everyone.