7 Canyons is arguably one of Sedona's most sensational venues. It has certainly become one of our favorites since we started working there when it first opened years ago. No wonder so many of our brides choose this gorgeous area as the backdrop for their Sedona weddings. Mariana and Nathan are no exception.
When Laura Marolakos, Heart of Sedona Weddings, brought this wedding to our table, not only were we doubly thrilled to be working with Laura again, but we were very excited to be asked to design this beautiful wedding at Seven Canyons Golf Club for a truly charming couple. We hope you will enjoy some of the lovely floral details and intimate moments from this lovely Sedona wedding photographed by the talented Hailey Golich Photography.
What a way to begin a fabulous wedding weekend! We love everything about this stunning sunset image taken among the old-growth Juniper, high above Sedona on the side of Schnebly hill. The burst of light coming from between the limbs makes this image absolutely magical. Great shot, Hailey!
Tlaquepaque Arts and Crafts Village is the heart and soul of Sedona. It's the perfect venue for engagement shoots as well as weddings.
There are so many vignettes, nooks, vine-covered walls, trees, fountains and stunning architecture that photographers have a field day capturing images that will be forever remembered.
Many people are surprised to find out that Show Stoppers is actually located in Tlaquepaque in suite C.107. Talk about convenience. Don't expect to find a cutie flower shop, though. Our store is a eclectic collection of everything one can imagine from all over the world. Our floral production studio is located just a short distance away. Wedding appointments are taken in our meeting room located upstairs in our sister store, Nectar Design, located in suite B. 105.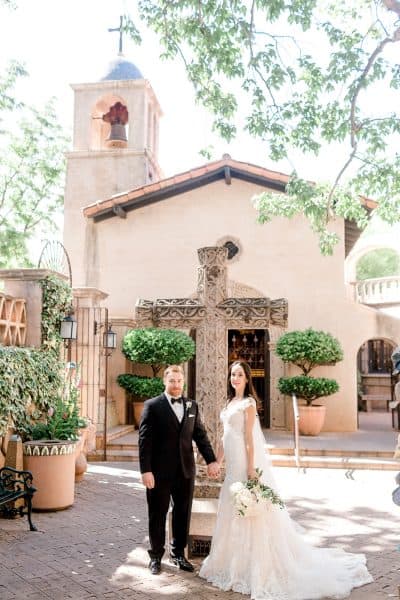 The charming Chapel at Tlaquepaque is a favorite.
The rehearsal dinner was held in Tlaquepaque at Rene's Restaurant.
Moving on to Seven Canyons, this is the lovely arbor we designed. Special considerations had to be make because of the breezy day, but we were very pleased with the final results. The view was stunning with the red rocks along the Mogollon Rim. The colors complimented the landscape perfectly.
This detail shot shows just how lovely this arbor was.
Our favorite image. Sometimes the breeze can actually work for you.
The ceremony table had a unity candle, mother's nosegays and a special garland to wrap around the hands of the couple.
Mariana carried a stunning bouquet of blush peonies, ivory roses, white anemones, blush roses and genestra.
Nathan sported a tasteful boutonniere made from elements we used in Mariana's bouquet.
No detail was overlooked.
Introducing the newly married couple!
After the ceremony, guests gathered for cocktails before dinner was served.
These pretty little florals were on all the cocktail tables.
Guest table centerpieces were made in silver mercury glass compotes. Flowers included white tulips, white ranunculus, hyacinths, roses, and eucalyptus.
Congratulations, Mariana and Nathan!