SCALE DRAWINGS AND RENDERINGS
Every great event, no matter how large or small, begins with a solid, basic idea.  Many people ask how we translate our concepts into exciting decor for weddings and corporate events.  Our design process has humble origins, typically beginning with very rough thumbnail sketches, quickly drawn during developmental meetings as visual aids.  Then, once a design is established, conceptual scale drawings are made for production purposes and to further excite the client.
Above is a detail of an original drawing for one of our popular birch limb wedding arbors.
The finished design has been used many times, morphing into seveal variations.
Members of Show Stopper's staff have professional training in drafting, painting and drawing that give rise to an impressive visual experience.  Each team member brings something unique to the table, much like musicians, whose combined talents work in concert for the overall audio experience.  With our team's combined abilities in cutting-edge floral design, professional lighting techniques, sewing skills, crafts and carpentry, the Show Stopper's team can bring any kind of decor to fruition, produced entirely in-house and totally original.  Rarely does one company provide such a scope of services in the production of event decor.
This conceptual scale rendering depicts the design for hand-dyed silk, European window backdrops. Originally produced for an event in Houston, the backdrops have been seen at other events, including the 10th Anniversary Gala for Phoenix Bride and Groom Magazine.
Here is a tight shot of one of the original drawings.
This floor plan was for the same event.  Show Stoppers plans event decor from the floor up, providing detailed blueprints for our clients, as well as all sub-contractors and vendors.
This is the room before we installed the decor per our floor plan and design concept.
Here is a quarter portion of the finished backdrop that served as an effective room divider, transforming the space into two separate areas.  Colors can be manipulated on site with the use of our professional lighting.  Our draping is seen above one of our innovative floral displays.
Here is the space after we installed the decor, as seen from the other side of the backdrop.  Notice the rose petal carpet.  Follow this link to see the entire event.
This layout depicts a retro-style rose petal carpet produced for the grand opening of Wildflower Linens in Scottsdale, Arizona.  The carpet was designed for the style show runway.  Professional models actually wore fashions made of table linens.
Designer, Jim Bullock, consults drawings during installation.
Everyone was thrilled with the results.
Onlookers were thrilled when the models posed and strutted through the rose petal carpet.
This rendering was the final diagram for a Hawaiian-style rose petal carpet.  Show Stoppers designed this piece for a glamourous wedding produced at the Royal Palms Resort in Phoenix AZ.  The composition was inspired by the exotic tropical flower, heliconia.  The pattern evolved by focusing only on the center portion of the heliconia bloom, where the intersecting bracts converge.
The final result was incredible.  This was one of our favorite rose petal carpets of 2012.
This Native American inspired rose petal carpet became a full-page feature in nationally acclaimed, Grace Ormonde Wedding Style Magazine.
The piece was installed at L'Auberge de Sedona and remains another favorite rose petal carpet, with variations appearing at other events throughout Arizona.  A fascinating time-lapse video documents our team behind the scenes installing the carpet.
This unusual geometric design was created for a photo shoot for Arizona's Finest Wedding Sites and Services Magazine.  Show Stoppers created  a rose petal carpet that surrounded an elegant wedding gazebo.
The end result was one of the most beautiful designs Show Stoppers produced in 2012
Here is a sketch of a statue holding a cornucopia filled with flowers at a private residence in Houston.
This sketch was for a mantle garland designed for a debutante party.  Blue starfish and sea-life were hand-sewn onto grosgrain fabrics and installed with fresh floral corners.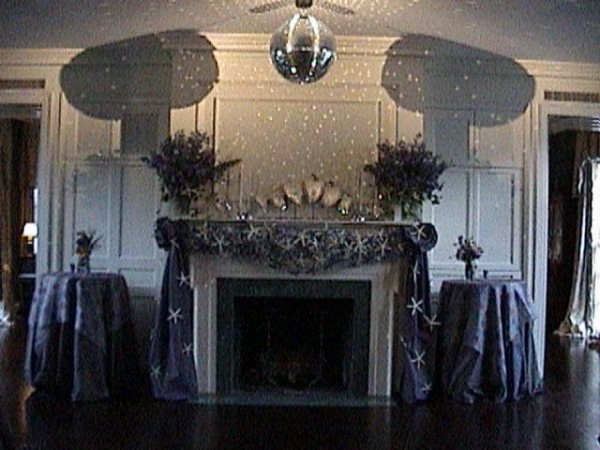 Here is the finished piece.
This rendering depicts a massive 32ft. shell garland that was constructed over a marble water feature.  An orchestra played above.  This design was for a Venetian themed debutante ball held at a private residence in Texas.
Jim checks drawings.  The garland was still under construction.  When the fountain was turned on, the waterfall plummeted over the black marble ( behind the shell garland ) with dry ice fog rising from the reservoir.
Great design begins with proper preparation and planning, regardless of the size of the wedding or event.  Show Stoppers excels because of our attention to detail, experience, versatility, quality and competitive prices.  Contact Show Stoppers today and see what we can do for you!