Show Stoppers Provides Custom Arches and Trellises
Our custom arches, trellises and chuppahs are available in many styles and price ranges.  This galley showcases several of our most popular designs.  Contact Show Stoppers by submitting your wedding information to expedite a quote.  Different options, pricing and booking procedures will be sent to you.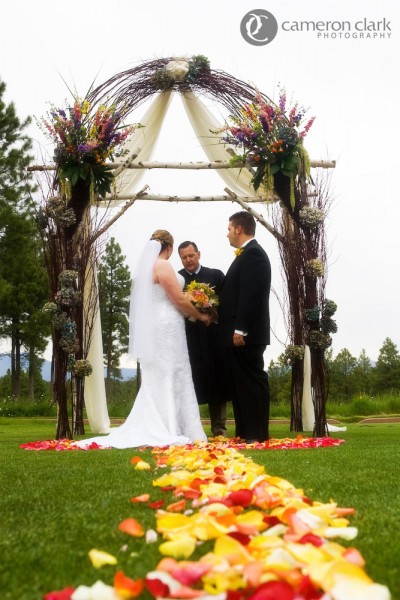 Birch arbors are our most popular.  Once the superstructure is complete, the design can be modified.  Vine domes, fabrics, flowers, branches and ivy, among other things , can be used to customize the arbor into any color or style.  Depending on a bride's choices, these charming arbors can fall within a wide variety of budgets.
Arches can be used in unsuspecting places.  Existing architectural elements of private residences can become the wedding arch for charming home weddings.  Our birch arbors can be customized into any size to accommodate larger wedding parties.
It's all in the details.  This stunning creation incorporated cholla cactus wood, agave, ocotillo, manzanita branches and an array of orchids and regional flowers.
Our arbors and trellises can easily be customized to any color palette by simply incorporating different colors of fabrics and flowers.
This lovely version was created for a dramatic autumn wedding along Oak Creek at L'Auberge de Sedona.
The Royal Palms in Scottsdale, Arizona was the setting for this stunning arch and floral display that wowed the Resort and all who attended.
This incredible arch incorporated 2000 roses, 150 hydrangeas, 100 orchid sprays, dozens of casablanca lilies, blooming jasmine vine, white stock and asiatic lilies. Gorgeous spilling floral displays were set on each side of the balustrade and hundreds more roses were used for the carpet.
Our lovely couple were thrilled with the results.
This autumn arbor was complemented with one of our popular rose petal carpets.  We used white birch for "pop" against the thick background foliage.
Contact Show Stoppers to discuss ideas for your custom arch, arbor or chuppah.  There are many options, both simple and elaborate, depending on location, time- frame and budget.