Ballroom Transformations For Sedona Weddings And Events
Fabric Draping and More
Show Stoppers can transform any space with the use of our themed props, fabrics, floral decor and lighting.  See one of our room transformations here.  Depending on the requirements of our clients, Show Stoppers will suggest how to get the best effect for a given budget.  Many times a space only needs a few touches here and there to create the desired effect.  In other cases, a client might want to go with a more grand transformation.  Show Stoppers is there to help our clients achieve their decor goals, large or small, and to guide them in making the best choices, while staying within a comfortable budget.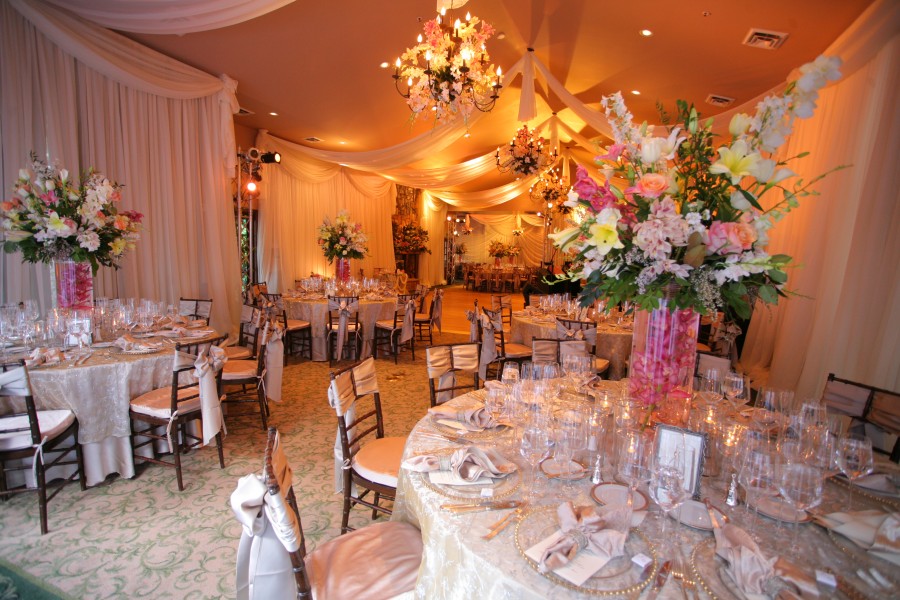 L'Auberge de Sedona is one of the most popular ballrooms in Sedona.  For years, Events By Show Stoppers has worked closely with L'Auberge to achieve stunning results for their weddings and events.  There are endless options available for this great space.  Depicted in this image are our draping, lighting and floral decor.
Depicted in this image is the same ballroom at L'Auberge de Sedona, but with a different color pallet and decor treatment.
Here is yet another example of the power of props, lighting and floral decor in room transformation.  This is also the ballroom at L'Auberge de Sedona, decorated effectively for a Sedona wedding with a Moroccan theme.
This gorgeous transformation was for a wedding at The Royal Palms in Scottsdale, Arizona.  Show Stoppers provided fabric draping, lighting and floral designs.    See a fascinating time-lapse video of this installation here  or back at the top of this post.  Even the carpeting and chandeliers were changed, to get the client's desired effect.
This image show the huge tented pavilion at The Arizona Grand Resort in Tempe, Arizona "before" Show Stoppers installed the decor for the Phoenix Bride and Groom Magazine 10th Anniversary Gala.  The space was transformed into a Cirque du Soliel theme.
This image show the same space "after" Show Stoppers transformed the room.  Show Stoppers works closely with our clients to get the desired effects.  Please take a moment to see this absolutely stunning slide show of the entire event by SedonaBride.com including the photo shoot that inspired the theme and colors.
Show Stoppers's is always trying new things.  Our latest, stylish draping technique is being ordered by brides who want a more creative urban look to their environment.  This is something different that you don't see event day.  We actually hand-dyed the fabrics to match the upholstery in the room.  Wouldn't this be fabulous in a warehouse / loft or barn setting!!   We can tailor it to go in elegant settings as well.  We love it!