Yes, we all have favorites but, today, we want to share with you the 60th Anniversary Celebration of two of our most favorite people in Sedona. We mean it. Connie and Hugh are very special to us.
Always fun, happy and affectionate, Connie is a joy to be with. We admire Hugh equally as much as he is a man who has truly made a real difference in the world for the good of mankind especially, in South Africa where his influence was nothing short of remarkable. Ken and I had the privilege of planning and designing their African themed 50th anniversary celebration as well. People still talk about it after all these years. Here we are 10 years later! Boy, how time flies.
The 60th Anniversary Celebration had a French / Scottish theme to celebrate both of their heritages. Both were very hands-on considering each and every detail. "Constance Dupont Coble!!" as Hugh affectionately calls her when he wants her undivided attention, knew exactly what her vision was and Huge was there to make sure it all happened just like she wanted. The planning process was so much fun but, being there to see it all come together and the joy it brought to their faces was the best.
We were so fortunate to be able to secure the services of Tina and Kevin from Sierra Blanco Photography to document the evening.
Our couple really got into the French theme and invited their guests to wear something very Parisian.
At the front door, guests were greeted with this charming blow up from their wedding 60 years ago.
A pencil drawing was done especially for the party.
An Eiffel Tower detail was perfect for the Champagne table and for displaying the custom-made invitation by Celebrations in Paper.
Connie wanted a sidewalk bistro illustration on the invitation so, we could repeat the theme for the cocktail hour in the back yard.
Their gorgeous home has African art everywhere. We particularly love this shot that highlights the round, white African sculpture we gave them for their 50th anniversary party.
Connie arrived in her golf cart blowing kisses to everyone. The cart was decorated with red, white and blue and displayed both the French and Scottish flags.
We custom-made canvas walls for the tent. They were installed around the perimeter of the tent that was provided by Deb Beggs of Classic Party Rentals. They are painted on both sides so they are effective from the outside and inside. Arched windows were incorporated into the design so guests could enjoy the stunning Sedona views. Blue and gold were prominent with colorful spring flowers everywhere.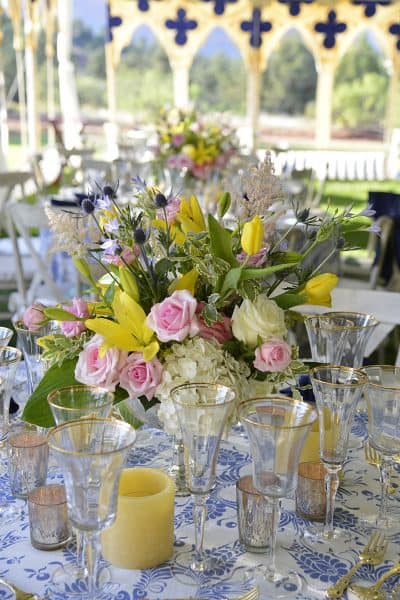 Sedona Cake Couture brought our vision to life. We requested blue plaid with gold accents and thistles ( the Scottish national flower ) to be stenciled on the front.
Connie kept asking for Ken, who was at the studio all day helping designers Steve Bader and Shawn Foster with the floral. When he finally arrived, the first thing he did was to greet Connie and Hugh.
Ken and I ran into so many friends at the party.
As the sun went down, the bistro themed cocktail area mimicked the invitation design with the use stripped linens, red, white and gold umbrellas and mandatory bistro lighting.
Guest settled inside for delicious French cuisine prepared by Chef Ron Moler and then dancing with Dj Curtis Whipple.
The darker the sky became, the more the stars came out making the entire evening magical.
A great time was had by all. Congratulations to Connie and Hugh!