Sometimes a wedding comes along that is simply beyond words.  The incredible images from Phyllis Lane Photography say so much more than a description ever could.  Her staff captured our designs with sensitive attention to detail and stunning composition.   Still, we will try to capture the essence of this fabulous wedding by attempting to put into words the incredible experience Events By Show Stoppers had at the famous Royal Palms Resort in Phoenix Arizona.
The Royal Palms staff could not have been nicer and more wonderful to Ken and I and our staff.   One after the next, staff members commented to us how rarely they ever see anything like this wedding. Many were taking pictures. What a nice compliment!  Ken and I and our staff want to thank Jessica and all the great people we met and worked with at the Royal Palms.  It is a fabulous property only surpassed by the wonderful people who work there.
Scottsdale's own Amy Mancuso brought Ken and I into this project.  Amy's skills at producing some of the most gorgeous weddings and events are legendary.  Our first project with Amy was not only lots of fun but the chemistry was almost like we had been friends forever.  The entire experience was just great.  Thank you Amy!!  Be sure to visit Amy Mancuso here:
Ken made a splendid bouquet of pinks and white.  Carina requested a pale pink and white color palette.  Pink and white peonies, white David Austin roses, pink and white sweet peas, lisianthus, delicate white allium, pink roses and ivory spray roses were incorporated into the design.  Touches of rhinestones were used to complement the lace and trim from her gown which was furnished for the handle wrap.
There were four lovely bride's maids.  Each girl carried a bouquet similar to the bride's.   There were peonies, roses, lisianthus, and various shades of pink and white sweet peas that were tied with a simple ribbon.
The ceremony was held in the intimate Allegro Garden.  This arch is one of the most impressive Show Stoppers has ever created.  It took 6 designers to complete.  We began at 9:00 am and finished at 3:30.Thousands of blown ivory roses in various shades were used in the design, along with dozens of Casablanca lilies, blush dendrobium orchids, pink jasmine vines and  hundreds of white hydrangeas.English Ivy was attached to the stucco behind the arch to appear as if it was growing on the wall. Even more ivory roses were used for the rose petal carpet below the arch along with hundreds more pale pink roses for the steps.
This is one of four cascading floral displays that sat on the balustrades flanking each side of the arch.
This is a great detail shot of one of the arch legs. This piece just kept devouring roses and got more beautiful as every bloom was attached.  In all, more that 2000 water tubes were used to design this piece.  Just filling the tubes took an entire day.  We used a custom, reinforced steel frame to support the weight.  Constant misting was required to keep the display comfortable.
Finally, this detail shot gives a front row seat as to how the top of the arch was designed.  Now for the aisle leading up to the the arch.
The aisle was a beautiful path that complemented the arch perfectly.  Several shades of ivory roses were used to created this 25 foot carpet.  A slightly darker pink was used to mimic a detail we found in the invitation.  It is always such fun to see guest's reaction when they see one of Show Stopper's carpets.  Even more fun is when they see the bride as she steps into the lush carpet and makes her way to the alter.  Even though the design is mussed and swirled as her dress glides across the petals, the effect is breathtaking and exciting to watch.  Forty of the chairs had cones that we fashioned of hand-made paper.  We trimmed each cone with pink tulle and ribbon, then filled them with rose petals for guests to toss.
As chair markers, pomanders were designed for every chair along the aisle. The melon sized pomanders were make of white carnations garnished with two blush cymbidium orchids at the top.  To finish, we used pink jasmine vine wound around the pomander.  This is a great image of one of the 12 pomanders with the aisle ribbon tossed around the chair.
As the newly married couple were introduced, Phyllis Lane captured this extraordinary black and white image of the pair just before they headed down the aisle towards the cocktail party and reception.  This is a great image, as it shows the scale of the arch with the lovely bride and groom as a point of reference.
This perspective in this incredible image of the bride's gown makes it look like it just keeps going and going.
As the bride and groom headed down the aisle to make their exit, Phyllis Lane captured this image of the back of Carina's incredible gown.
The patio outside the Palmera Salon was turned into a fun cocktail lounge. White leather furniture and illuminated plexiglass tables were brought in for furnishings by Creative Event Rentals.  Show Stoppers designed and sewed custom sheer white drapes with large pink tassel tie backs.  Custom fabric draping was also swaged across the existing overhead beams, then up-lighted with pink.  We appreciated the assistance of Quest Drape who provided the labor to install our pre-cut fabrics. The area was detailed with pink florals.
The Reception
Nearly every surface of the room was transformed.  First, the existing floor was covered with white carpet.  All the walls were draped with hundreds of yards of sheer fabrics.  Each 10 foot section required 42 yards of fabric to get the fullness we wanted!  The ceiling was draped with even more fabric.  The existing iron chandeliers were replaced with 3 giant sparkling ones. More free standing drapes were layered in front of the walls and tied back with gorgeous custom pink tassels.  Service entrances and unneeded doorways were screened with yet more fabrics.  In all, fabric lengths equivalent to over 6 football fields were used!  We have included this gallery without captions. Phyllis Lane's exquisite images say it all!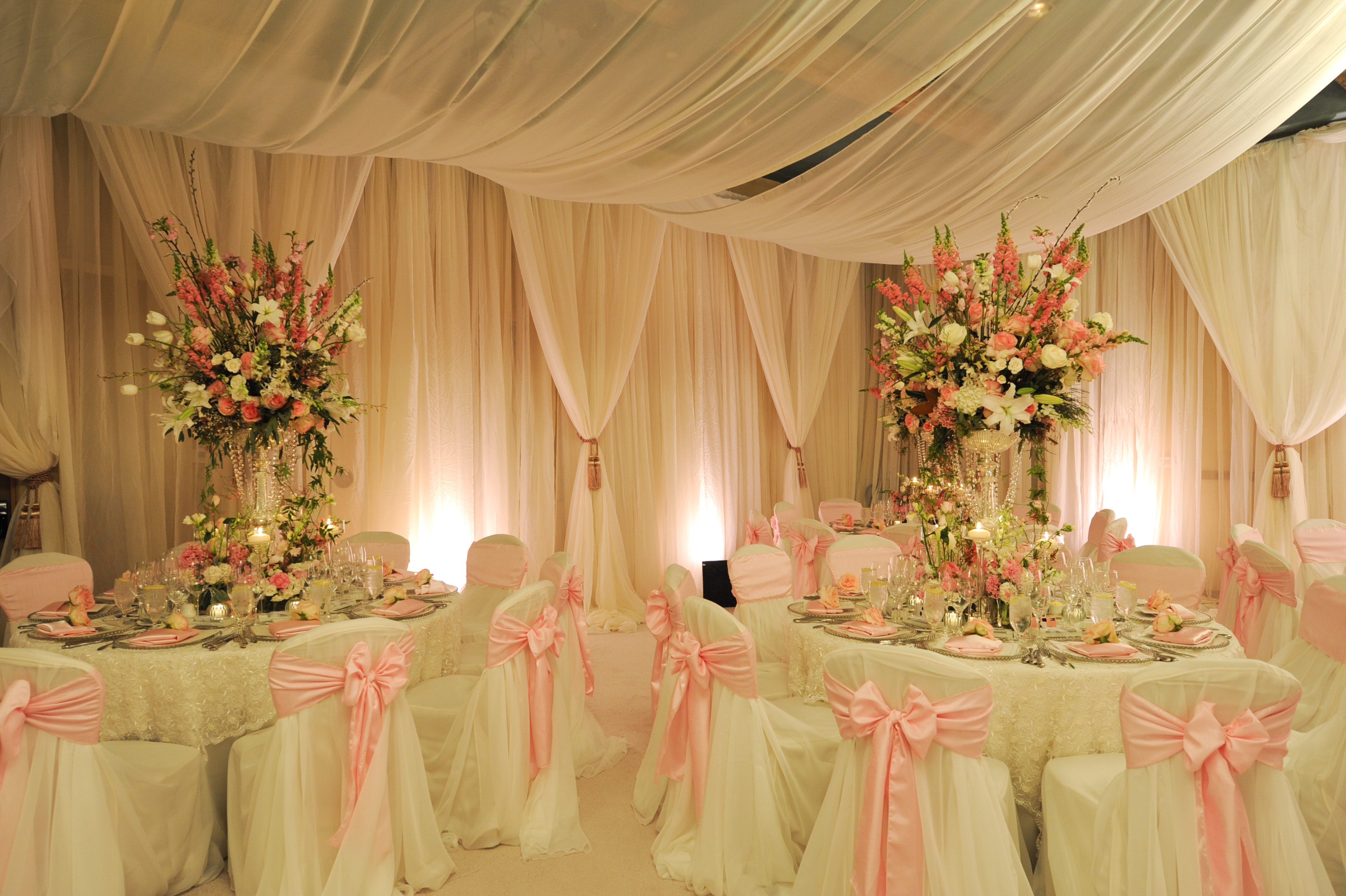 Our sincerest congratulations to Carina and Drew!