Ken and I are fortunate to provide service to a wide variety of couples. This particular wedding we planned in it's entirety from bottom to top. We choose the vendors and selected the table-top rentals / linens / china / chairs and furniture. Show Stoppers provided the flowers, draping and lighting.
Most of our brides are admittedly budget conscience but are thrilled when they realize Events By Show Stoppers is reasonably priced and can provide gorgeous flowers easily within their comfort zone.
Then, there are the brides that take the time to throughly explore our blog and website. They are amazed to see that we actually provide a variety of services beyond floral that go head-to-head with the best talent in more cosmopolitan communities who are considered the best in the business. The point is, we provide all levels of wedding flowers from intimate elopements to lavish over-the-top productions, cultural weddings and everything in between.
Not often, but sometimes, weddings come along with practically no boundaries. What can be better than just enough interesting people, a dazzling Native cultural ceremony, an intimate home setting, unbridled artistic license, an exquisite reception venue, live music, and delicious delicacies. Best of all, a couple so nice and receptive that Ken and I wanted to bend-over-backwards to make sure we created the evening of their dreams that went far beyond their expectations.
Enjoy this short teaser by Sierra Blanco Photography and Video.
Barbara and Richard's wedding was the wedding dreams are made of. We hope you enjoy seeing their wedding as much as we enjoyed producing it.
Link to Sierra Blanco Photography and Video
Ken and I were thrilled that our friend, Uqualla, a Havasupai Shaman, honored Barbara and Richard with a very special ceremony.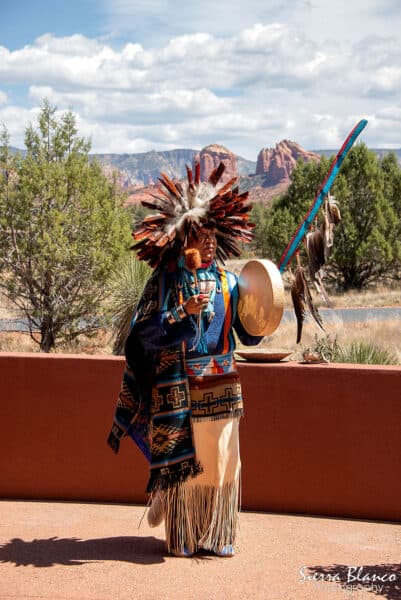 Uqualla's stunning ceremonial costume was something to behold.
The detail of his Native costume was incredible.
Barbara and Richard's ceremony took place on the terrace of their stunning home that overlooks the famous Cathedral Rock.
Traditional Native customs and chanting were incorporated into the couple's spiritual ceremony…
The rings were blessed……
… smudged with burning sage….
…. followed by traditional drumming.
Barbara carried a lovely bouquet of blush roses and fragrant gardenias.
As if on cue, a soaring hawk flew over the ceremony site.
After the ceremony, guests enjoyed delicious delicacies from Creations In Cuisine Catering while enjoying the sounds of Native flutes.
The evening wasn't over. The popular Creek House at L'Auberge de Sedona was the setting for the elegant reception.
The Creek House was beautifully decorated with custom lighting, stunning florals, special linens and draping.
Guests enjoyed cocktails on the deck overlooking beautiful Oak Creek before going in for dinner.
Charming lanterns decorated with flowers and vines were on every cocktail table.
The color scheme was peach, blush, cream, lavender and white. Events by Show Stoppers coordinated the look with special chairs, china and glassware from Event Rents. Linens and chair pads were from BBJ / La Tovala. Show Stoppers provided florals, custom lighting, lanterns and draping.
The staircase was draped with luscious taupe fabric and sheer overlays of embroidered sari fabric.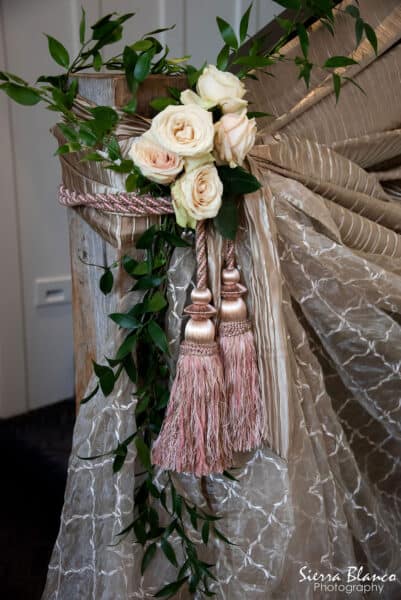 Blush tassels and roses garnished the newel posts.
The large TV, which dominated the room, was effectively hidden by more elegantly draped sari fabrics.
Swaroski crystal garlands were draped from the bowls of the silver epergnes.
A baby grande piano was brought in to entertain the guests. It was then delivered to the couples' home.
We chose some lovely leather lounge furniture that was placed on the stone terrace next to babbling Oak Creek.
Congratulations to our wonderful couple.
Dear Jim & Ken,
We cannot place into words our Joy & Appreciation for ALL the very delicate care you both took to make our wedding day and evening 'Auspicious'~! You gave us peace of mind, knowing everything would be SPECTACULAR~! YOU BOTH, created a magical sacred space which gave natural beauty to our wedding ceremony. You attended to every detail of the day and following into the evening.
The evening was beyond all expectations!!! You gave Richard & Myself, the gift of not only Beauty beyond words, but the guest were given a Sacred Space where all distraction of our present world were removed. The wall which was created in beauty~! It was noticed by many as part of the elegant beauty of the room. No one knew what was taken away, a distraction removed and given more beauty (Big Screen T.V.)
The staff took care of everyone removing a great distraction of 'cell phone addiction' which allowed more space for loving and communication. The photographers were there so all will have memories. Everyone was free of distraction for that evening of just being in Joy. Our home is once more filled with the 'Fragrance' of Love, and memories of Our Wedding.
Blessings to you Jim, and you Ken forever more~!
Barbara & Richard
(Mr. & Mrs. Richard Harber)
Special thanks to Kevin and Tina of Serra Blanco Photography and Video for their special contribution.