Celebrate your wedding with stunning fresh flowers. Sedona's leading floral and decorating company is conveniently located at Tlaquepaque in Suite C.107. Widely recognized for our elegant and fashion-forward design, Show Stoppers will custom design your wedding with unsurpassed style. On a budget? Choose one of our popular value-driven floral packages.
Extended exclusively to our Tlaquepaque brides, Events by Show Stoppers offers three lovely floral packages at deeply discounted prices. Our florals afford the quality, value and service Show Stoppers is known for.
Our packages are designed to streamline the process and save you money. By placing your order directly through us, you receive the lowest prices possible.
If you are not familiar with flower types and are open to letting Show Stoppers decide what flowers to use, our Tlaquepaque floral packages are definitely the way to go. Our brides receive gorgeous professionally designed flowers delivered on time straight to their ceremony and reception site.
Brides may choose up to three colors. Show Stoppers will choose the flower types according to seasonal market prices which we pass on to you. We rely heavily on gorgeous open roses and other "in season" flowers.
A 100.00 non-refundable deposit is required at time of booking. Balance is due 30 days

prior to wedding date.
Special requests are not available with our packages. No changes can be made.

Package prices do not transfer to other venues nor can they be combined

with our standard custom wedding prices.

No substitutions, special requests or changes may be made. No samples are

available. There are hundreds of images on our website.
We have no delivery charge! Since Show Stoppers is located at Tlaquepaque we are able to waive our normal delivery and set up charges. This helps save our brides even more money!

Delivery is not available to off-site venues. Delivery is available to the

Tlaquepaque Bridal Room, reception sites or can be picked up at Show Stoppers (Tlaquepaque, Suite C.107)

Any add-on items (not included in our packages ), and that require on site labor

are subject to set up and pick up charges. Contact us for add-on information.
DIY flowers may not be used in combination with Tlaquepaque floral packages.

Brides may provide their own candles, party favors and table top details provided

they are not floral related. By special arrangement, Show Stoppers will provide rental votive candles, however minimums and late pick up charges will apply.
Brides wishing to request more specific flower types and designs may refer to our La Campanas de Tlaquepaque Package or refer to our suggested price list, which is still the best value in Sedona given the generous amount of product we provide!
EXCLUSIVE TLAQUEPAQUE FLORAL PACKAGES
La Rosa de Taquepaque Package ( `a la carte )

Reception:

Centerpieces: Suggested for round tables. Mostly roses with other seasonal flowers.
Show Stoppers will deliver to table-tops at no charge. 60.00 ea.
Note: Large rectangular farm style or Descanso tables require more floral for the best presentation.
CHAPEL

:
Pew markers: Fresh flowers made in small glass jars that hang on the pews. Perfect for use on cocktail tables after ceremony.
Brides may take the flowers after the ceremony. 20.00 ea.
Rose petals for aisle: Fresh petals allowed in Chapel only. Petals from 6-8 roses per bag. 18.00
* Silk petals allowed in courtyards only. White only. 5.00 per bag. Bags are about the size of a zip-lock sandwich bag.
Flower girl baskets: Small natural vine basket with white silk flower petals. 25.00 ea.
Altar arrangements: Rental: White faux flowers. 45.00 ea.
We recommend two. (One sitting on each end of ledge) No colors available. Show Stoppers will pick up after ceremony. Arrangements may not be moved out of the Chapel at any time.
Fresh altar arrangements: Bride chooses color only. 100.00 ea.
Brides may take flowers after the ceremony.
Pedestals: Rental. Red rock motif. 20.00 ea.
Show Stoppers will pick up the morning after the ceremony. Pedestals may not be moved to other areas.
Candles: Show Stoppers does not provide candles. Please check with Tlaquepaque for their lovely candle selections.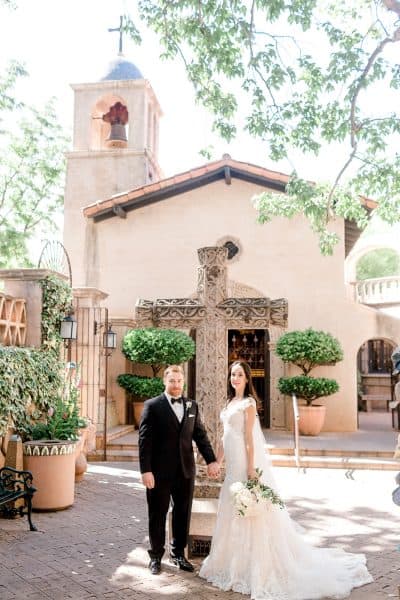 Personal Flowers:
Bridal Bouquet: Roundish / Ribbon wrapped handle. Choose up to 3 colors. Show Stoppers chooses flower types. 85.00
Boutonniere: Designer's choice. 15.00
Bride's Maids: Ribbon wrapped handle. Choose up to 3 colors. Show Stoppers chooses flower types: 55.00
Intimate Elopement Package /

150.00 Complete
Included in the Intimate Elopement Package:
Bridal Bouquet: Roundish / Ribbon wrapped handle. Choose up to 3 colors. Show Stoppers chooses flower types.
1 Boutonniere:
Small package of rose petals: Fresh (Chapel only) or white silk for courtyards.
Small floral arrangement: Suitable for a dining table for two, coffee table or bedside arrangement.
* No add-ons please.
La Campanas de Tlaquepaque Package
Refer to our La Rosa de Tlaquepaque Package for costs of floral items. The La Campanas de Tlaquepaque includes these extras:
* Brides will receive 1 hour of scheduled phone consultation.
* Bride may send two photos for reference only. We do not copy photos.
* Bride may co-select seasonal flower types for her bouquet. Price depends on flower selection.
* Bride may co-select seasonal flower types for bride's maids. Price depends on flower selection.
* Bride may upgrade centerpieces. Price depends on flower selection.
Wedding, Party, Event Planning and Styling Services
Events by Show Stoppers will plan or style your entire wedding upon request. A deposit is required for planning services. Contact us for more information and pricing options. Here are the services we provide:
1. Recommend vendors / make initial vendor contacts / facilitate booking / schedule meetings / follow ups / revisions / oversee and manage set ups / supervise vendors for 1 hour after reception begins.
2. Advice and selection of color schemes, paper product design, special custom designed items like gift bags, party favors etc.
3. Development of menu selections.
4. Rental development and facilitation i.e. linen selection, tableware, glassware, catering equipment, power solutions and transportation.
5. Tenting solutions and rain backup options, design, floor plans, set-up and strike scheduling.
6. Rehearsal dinner recommendations and facilitation.
7. Basic timelines.
8. Floral / lighting and draping design.
A 100.00 non-refundable deposit is required to reserve your date. Call Ken at 928-203-9096 to place your deposit. It will be applied to your final balance.
Balance due 30 days prior to wedding / event date.
Checks payable to: Events by Show Stoppers / P.O. Box 3744 / Sedona AZ. / 86340
Credit cards add 2% processing fee. Thank you!