There is more to this celebration than you know. It was actually very special that Patricia and Scott had this opportunity to renew their marriage vows. ( See part one )  They told me that when they met on South Beach in Miami, it was love at first sight and a whirlwind romance with a ceremony on the beach. They never had the opportunity to have an actual wedding ceremony in the traditional sense of the word.   Although the ceremony I styled was not exactly what they would have imagined, it was very real to them.  They were the perfect fit and soaked it up like a sponge.  Ken and I could not have been more thrilled knowing this little bit of background about our charming couple and how it played into our vision. Now for part two of our adventure.
After a quick wardrobe change, we changed the tone of the shoot to something more sensual.
Ken designed this sumptuous calla lily bouquet that is so sensual and gorgeous against the black corset and fringed shawl.  It took shot after shot to get the rosary to hang just the right way.
These romantic intimate shots are simply stunning in the glow of the candlelight.
The candles were strategically placed on the floor to get the perfect effect.
The glow of the candlelight is so beautiful in these romantic images.  We love how these images turned out.
In a playful moment, Patricia tugs at Scott's bow tie.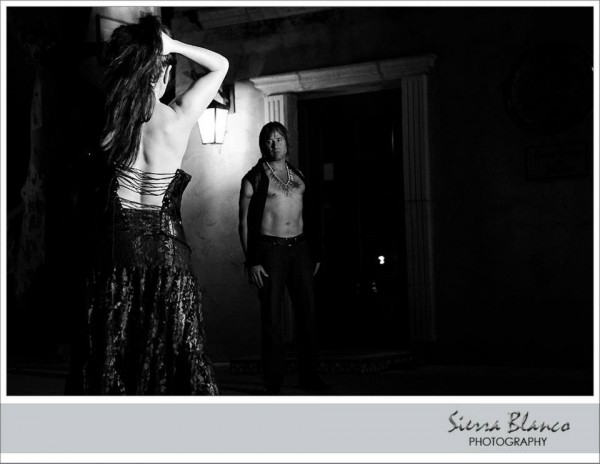 We wanted a few sensual, intimate and sexy moments.  Did this image ever fit the bill.  Fabulous composition.  This image simply would not be the same in color.
With the ceremony portion of the shoot concluded and after some private moments had been documented,  Kevin and Tina of Sierra Blanco Photography, wanted to venture out among the Tlaquepaque grounds for some celebration shots before the crowds got too big.  Of course there were Mariachis.
Scott and Patricia danced among the flowers and, sure enough, the crowds began to gather, drawn by great traditional Mexican music and curiosity of what was happening. Many people that were in the crowd outside the Chapel during the ceremony followed to see more of what we were doing.
Dozens of cameras started to flash and everyone celebrated, whether they knew the couple or not.
The Mariachi musicians really belted it out.  They were so good!
Our wonderful models and friends were having a ball, as were all of us behind the scenes.
I just could not help myself.  Even I had to have a dance with my gorgeous model.
It was now time to venture out around the exquisite Tlaquepaque property to get more great images. No problem with people walking around or getting in the way while the shoot progressed.  We love  this artistic black and white shot of the fully decorated Patio del Norte fountain with our stationary models surrounded by people milling about.  Really nice.  We love the sharp focus of our skeleton bride and groom mural ( all the way at the back of this image ) and the way it contrasts with the blurred look of people in motion.  They almost look like spirits.  It was Dia de los Muertos, after all.  Very cleaver photography.
Many of you know that Ken and I have a second store, called Nectar Design, in Tlaquepaque where we sell Native American Jewelry and arrange weddings ( of course ).  The next two images stunned us with their artistic approach.
We could not believe this image when we saw it.  All of us at Show Stoppers were literally gathered around the computer screen and gasping when we saw it for the first time.  Others heard all the commotion and came in to see these splendid images.  The image is a reflection in the glass looking into our Tlaquepaque store.  Notice how cleverly our models face appears as if it is the catrina's face ( the ceramic skeleton woman).  Even the vertebrae on her neck morphs into the image.  The hat looks like it is actually on Patricia's head.  Just incredible imagery.
Here is another breathtaking image made with reflections.  Ken and I wanted artistic, romantic, sexy and edgy photography.  Sierra Blanco Photography really hit it out of the park.
This cool shot was taken outside our display windows with the models inside the store.
Talk about being in the right place at the right time.  Everything just clicked during this shoot. Spontaneous moments like this just cannot be planned.  When I saw a woman in the crowd with this gorgeous Cockatoo on her shoulder, we dropped everything and made a bee line to see if she would let us incorporate this magnificent animal into the shoot.  One thing all of us have in common ( including the late Frida Kahlo ) is our mutual love for animals.  So often one sees exotic birds and monkeys in Frida Kahlo paintings.  It was almost as if she was there guiding us.
The crowd went absolutely wild. Really.  Patricia's image must have gone around the world.  The patio looked as if  rock stars had just come on stage with all the camera flashes going off.  We love the highlights on the Navajo pearls and especially the light reflecting off the heart on the earrings.  Even Patricia's eyelashes are visible against the backlight.  Patricia really worked it.
Our custom lighting made the decor jump out of the dark.  Samyo Shannon, Show Stoppers' designer, lighting and decor expert designed the lighting perfectly.
Our models look like ballroom dancers in this image.  Even the model's toes and boots were in character.  They look as if they are doing the Tango on the edge of the fountain.
Love it!
You can almost hear the water in this romantic image.
Earlier in the day the photographers took the opportunity to document the fantastic cake designed by, who else but Sedona Cake Couture.  The colors were wonderful and even the sugar skulls were perfect for the theme.
Later in the evening, the cake was photographed again with the glowing amber windows and dangling ribbon streamers we hung in the courtyard tree.  The ribbons and colors worked perfectly with the decor we had created in the Chapel, just a few steps away.
Portraits of the Bride
 Here she is. Our model, Patricia Vega "became" Frida in this sultry, glorious image.
Patricia's skin tone was flawless in this stunning portrait.
Again, black and white imagery can be just, if not more effective, as color.  We were super excited about the images from Sierra Blanco Photography.
The color in this image can only be described as rich.  Notice the color of the sky at the blue hour and how it plays with the blue purple shawl and highlights of the feathered umbrella.  I love this dark, sensual, mysterious style.
Ken was blown away by this image.  We all were.  You can practically see the model walking and her earring glistening in the moon light.  This image has to be one of our very favorites in the entire collection.
Dia de los Muertos Festival
The Dia de los Muertos festival at Tlaquepaque Arts and Craft village was the backdrop for our entire shoot.  Tlaquepaque could not be more perfectly suited with its old-world charm and atmosphere.
This year's Dia de los Muertos festival was bigger and better than ever.  The event has obviously taken on a life of its own and will be an annual event in Sedona from now on.
There was face painting , delicious food, decorative items and gifts being sold by street vendors.
One of Show Stoppers' talented designers from our Phoenix crew, Steve Bader,  made wonderful sugar skulls with scenes inside, much like Easter eggs.
There were interesting faces around every corner that made the night come alive.
Show Stoppers installed decor all week long.  Here is one of our decorations in one of the grand new fountains on the property.
Tracey Downes, one of our designers who works in our Tlaquepaque location, painted our frolicsome Dia de los Muertos murals.
Paper mache' catrinas were used in key areas.
The fountain in Patio del Norte became an impromptu altar with hundreds of candles and offerings.
Even the smaller fountains around the property received decorations.
There were details around every corner.
 What fun to see people getting into the spirit and getting dressed for the occasion.
These girls really went all out with their elaborate costumes.
The crowd was having a wonderful time listening to music and people watching.  There was so much to see and do.
The thing about Tlaquepaque is that there is a photo op around every corner.
We LOVE this image.  Look how the characters seem to blend with the mural behind them.  This photograph looks like a painting.
The Marigold Project / A Public Memorial Mural
The Marigold Project was one of the highlights of the festival.  To promote public interaction, a blank canvas was constructed and paints provided for anyone to paint a tribute to anyone or any pet they wanted to memorialize.  Hundreds upon hundreds of people participated during the course of the week. The mural will become part of the permanent decor of the Dia de los Muertos each year.  Every year a new mural will be constructed for even more people to paint on.
The mural was moving, emotional and fun to look at all at the same time.
 The Offrenda / Public Memorial Altars
Show Stoppers designed a public altar to display  hundreds of offerings and candles placed by loved ones to honor the deceased.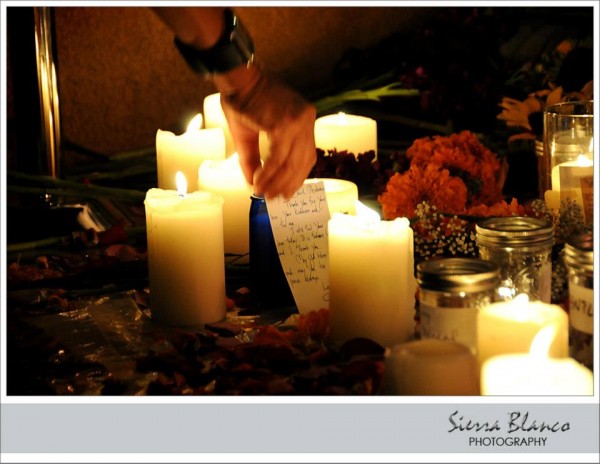 People placed hand-written notes, flowers, candles, favorite foods, photos and all sorts of things on the altar.
Ken and I created JettBo's fund two years ago.  JettBo was our beloved Malamute that we brought with us from Houston.  He lived to be 14 years old and we adored him. Festival goers were able to come by JettBo's table and get a mason jar votive candle.  A label was placed on the jar for a name or message to be written honoring a loved one or pet. Donations of any amount ( no donations required ) were placed in a vase with Jettbo's photo on it.  All donations were collected and will go towards benefiting animals in some way.  JettBo's Fund For Needy Animals raised just over $1000.00 this year!  We have a great surprise about where the donations will be used  in the coming days.   JettBo ( BoBo ) is still lives within us and loves making people happy.
JettBo
Jars from JettBo's fund and offerings were everywhere.
Candles and remembrances were placed in a colorful pool made of thousands of rose petals.  Our darling Siberian Husky, Chilli, who we lost 6 years ago looks on.
As the evening unfolded and the crowds got more intense, fabulously costumed characters began to emerge.  This shot is superb.  We love the fact that we see a paper mache' catrina and a life-sized catrina perfectly positioned against the fountain that we had decorated days before.
We simply had to do another one of our signature rose petal carpets.  We designed a Frida catrina using over a 1000 roses by following a to-scale rendering.
Here is the finished carpet.
Tina and Kevin wanted to do a shot of Patricia in the carpet.  The scale of the piece was huge.
This dramatic image of Scott holding Patricia (with her hair down), while standing in the carpet lit by fire dancers, actually got applause from the onlooking crowd.  All we can say is WOW.  What a fantastic image.
The entertainment gets better every year.
The event was nothing short of a spectacle.  The fire dancers thrilled the crowd.
It must have been quite a challenge to wear masks while twirling these torches.
So much was going on this year that it must have been a photographer's dream.
So ends our incredible shoot with the fabulous Sierra Blanco Photography.  We understand there are even more images coming at some point, including some behind he scenes shots.  We will post them when they become available.
Can't end without showing our new Malamute puppy. Bosco is 8 months old and we love him so much. He is such a ham and loves to meet people and have his picture taken.  We brought him up to Tlaquepaque for a few minutes before we had to get dressed for the event.
Hope you enjoyed the ride.
The team:
Venue:  Tlaquepaque Arts ad Crafts Village
Photography: Sierra Blanco Photography
Models:  Patricia Vega and Scott Lopez-Haagh
Cake:   Sedona Cake Couture
Officiant: Reverend Andrew Murphy / Heart of Sedona Weddings
Video:  Sedona Sounds and Video
Hair and Make-up:  Patricia Vega
Floral / Decor / Lighting / Planning / Murals ( Tracey Downes ):  Events By Show Stoppers
Jewelry:  Nectar Design