Texas Clients Come to Sedona
One of our very favorite clients from our Houston days just happened to walk into Show Stopper's Sedona show room.  What a surprise and what a reunion!   We had a ball with Missy. ( mother of the groom)  Having worked with Missy in Houston, we knew exactly what she wanted for the couple. Missy was not going to be satisfied until every single detail was just perfect, right down to the custom monogramed linen napkins she had made in Texas.  She had Sedona right around her little finger and savored every minute planning this wedding for her darlin`s, Randi and Michael.  Everyone loves Missy.
The wedding of Randi and Michael was romantic, full of love and humor, and held fast to a true Texas / Irish tradition.  The wedding took place at L'Auberge de Sedona under the direction of Sedona Wedding Studio planner, Margaret Van Damme of Van Damme Weddings.  Cameron Kelly Studios provided the lovely photography.
The rehearsal dinner was held on the popular Monet Garden Lawn.  A huge banquet table was set up by Classic Party Rentals and provided a romantic setting that got more and more lovely as the sun set behind the red rocks of Sedona.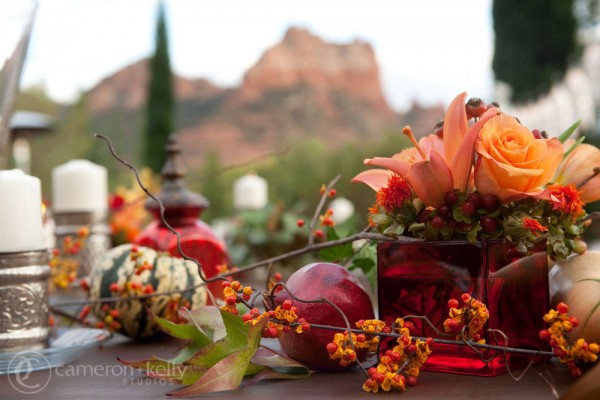 Show Stoppers used mix-matched silver candle holders and autumnal elements along the inside table edge.  Elements included vine, magnolia, gourds, squash, produce, bittersweet, pomegranates and assorted flowers.  Colored glass vessels accented the look and were later given as appreciation gifts by the bride and groom.
Chair backs were decorated with small autumn wreaths and given to guests as favors.
Show Stoppers installed linen wedding lanterns that provided a romantic glow to the rehearsal dinner.
Randi's bouquet was elegant.  Ken used combinations of ivory and antique white roses, blush spray roses, dahlias and orchids.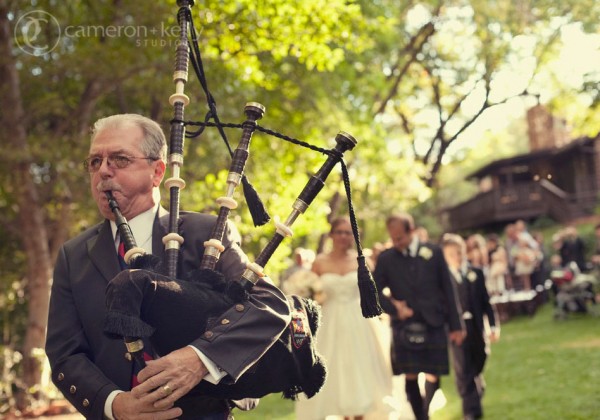 Bagpipes were a must and led guests up to the reception after the ceremony.  Michael wore gorgeous traditional kilts.  Even the plaid is called ,McInness Tartan, and has been used in their family for generations.
The reception was held on the Creek House Terrace.  Show Stoppers installed our popular square silk lanterns to light the area.