New Autumn Designs
Show Stoppers is busy designing lots of new things for our fall wedding collections.  We love the warm colors of an autumn palette. Paired with the sensational colors of the Sedona landscape in the fall, natural textural elements and seasonal flower varieties, one can easily see why autumn is our favorite season in Sedona.
We found this wonderful fabric last year and decided to do some test runs by draping one of our gazebos.  The colors are great.  After a few adjustments and experimentation at the Sedona Wedding Studio, we decided to move forward with the design to be added to our autumn wedding collection.
We debuted the final product at a recent photo shoot at Oakcreek Country Club with Sedona Bride Photography.   We love the way they captured the color and transparency of the layered fabrics.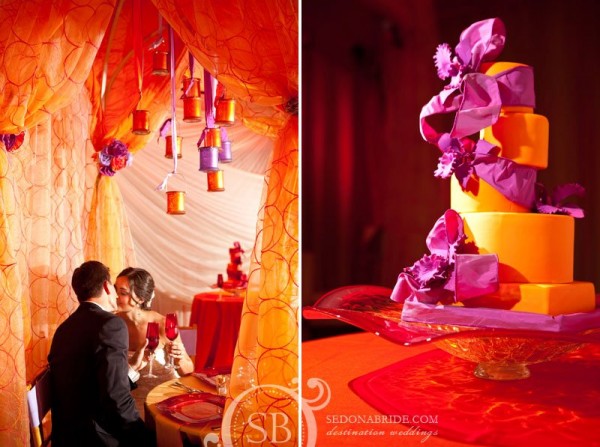 The shoot was very successful.  There will be an additional post showing images of the "before decor" and "after decorating" in the near future.  Sedona Bride Photographer's image of the cake from Sedona Cake Couture is gorgeous.  Notice the colorful light reflections on the linens as light passes through the hand-blown glass tray that holds the cake!   Lovely shot.