Sneak Peek at Katelyn and Brian's Biltmore Wedding
We have been anxious to do this wedding at the Arizona Biltmore for some time. This was one of those times where everyone and everything just clicked.  These first images that came from photographer Emily Snitzer's blog just days after the wedding are incredible. Katelyn and Brian were a joy as was Kate's mom, Kris, and her aunt, Wendy.  What a wonderful, fun loving family.  More images will be forthcoming so visit us often and see more photography by Emily Snitzer.
With the five bride's maids and Katelyn, the day began very early with hair and make-up.
Katelyn was obviously thrilled with the results when she put on the dress and saw how gorgeous she looked.
Brian looked handsome and was beaming with anticipation at seeing Katelyn for the first time in her fabulous bridal gown.
Katelyn's parents delivered her to Brian.
This image has got to be one of the best "first looks" ever.
What a lovely couple.  The weather was perfect for these charming images.
Black and white images are wonderful, especially in a romantic shot like this.
The Arizona Biltmore has wonderful photo ops around every corner.
The grounds of the famous Arizona Biltmore never looked better.
The Biltmore's architecture is typical of the work of architect, Frank Lloyd Wright.  Everyone agreed that the wedding should follow the lines and style of this famous Arizona landmark.
The Event Essentials designed the programs and other paper details for the wedding.  As you can see, geometric patters were used throughout, including the rose petal carpet.  Everything was perfectly coordinated.
Kate's father gives her away.
Guests stood as Katelyn and her dad walked through the Frank Lloud Wright inspired rose petal carpet.
Katelyn carried a stunning bouquet.  Ken found variegated cream and plum miniature phaleonopsis orchids with miniature purple cymbidium orchids with a white highlighted edge.  Garden roses, lisianthus and plum colored calla lilies finished the look. Elegant purple passion flower vine spilled from underneath.
The bride's maids were gorgeous in their plum gowns.
Ken made the lovely bouquets that included roses, orchid varieties and stock.
Brian's groomsmen show off their cool new watches.
As the sun began to set, there was time for a few more shots before the reception.
The happy couple spends some private moments before heading to the reception.
Guests found their seating assignments on elegantly coordinated cards by The Event Essentials.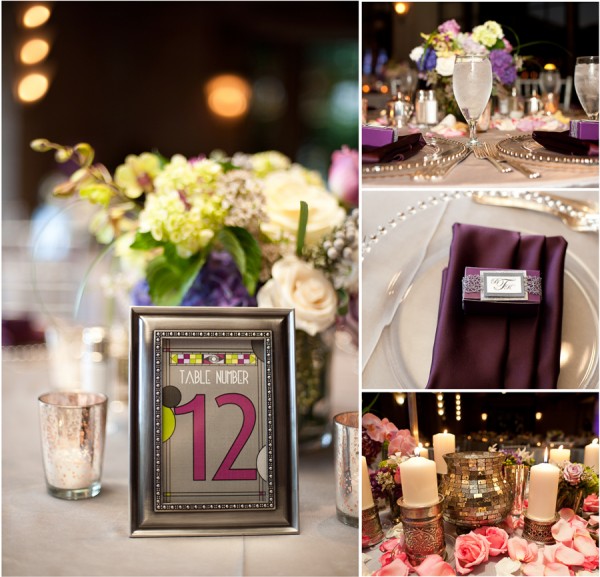 The tables had many lovely details perfectly placed by Some Like It Classic Events.
Cake designer, Andrea Carusetta of Sedona Cake Couture designed the spectacular cake.
We received this wonderful note from Katelyn's parents and aunt.
Come back and visit soon and see part two of this incredible wedding.  We can't wait to see the next images from Emily Snitzer Photography.