Recently, Show Stoppers was hired to create a contemporary Southwest style wedding at Sedona's popular Sedona Golf Resort.  Varieties of cacti and succulents were used along with Sedona red rock, glass domes, cholla cactus wood, peppers, euphorbia varieties, orchids and moss.  This was an unusual study in it's combination of colors, textures and use of flowers, plants and foliages from wildly extreme temperate zones.  We love the look of this wedding that was inspired from a shoot we did for Grace Ormonde Wedding Style Magazine last year.  In fact, that is where our clients got their inspiration and contacted us.  We hope you like it.
As guests entered the foyer of the beautiful Sedona Golf Resort, they were greeted with a reception table display of all the afore mentioned elements.
We used cut cacti in water filled cylinders, kalanchoes, orchids and lots of Sedona red rock.
Each centerpiece was a living cosmos of southwestern elements housed in glass domes that rested on red flagstone.  Flowers, succulents and ornamental peppers accented the table outside the dome.
The head table was a smaller version of the foyer design.  The glass was filled with water and ice.  One does not ordinarily associate cacti from hot arid regions with ice…. an unusual twist and subtle play on "fire and ice."
Orange was the color of the day.  These kalanchoes, tulips and rose hips worked wonderfully with the cactus skeletons and desert coral.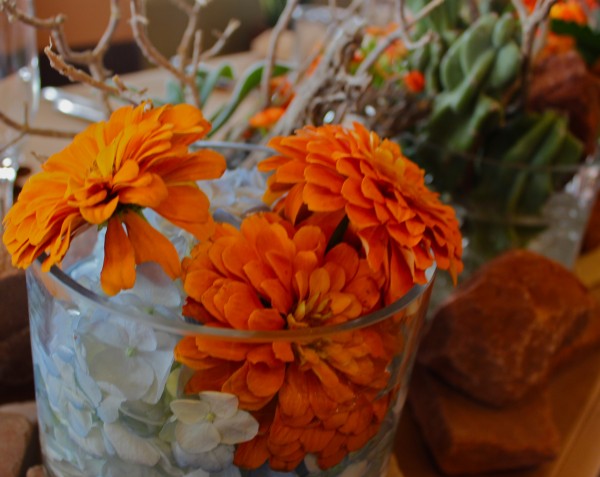 These hot orange zinnias resting in cool light blue hydrangeas worked perfectly for that hot and cool combination.
Ken and Andres put the final touches on the alter arrangements that were set up right at the last minute in order to protect them from wind and sun.
The alter arrangements were colorful and dramatic against the Sedona landscape.