Wildflower Linens Grand Opening Included A Rose Petal Carpet For the Fabulous Fashion Show
It was a glamorous occasion with an equally glamorous crowd that made Wildflower Linen's grand opening event the place to be in Scottsdale on October 26th.  Katrina and Andrew of Sedona Bride Photography captured all the excitement.  Here is a link to the slide show they made for Show Stoppers of the fabulous fashion show.
Masses of coral, pink and gold rose petals covered the runway in another one of Show Stopper's signature rose petal carpets designed with a retro-look to suggest a Frank Lloyd Wright stain glass window.
Show Stopper's rose petal carpets are drawn to scale and revised until just the right design is achieved.  Designer, Jim Bullock, consults his drawings to make sure everything is perfect.
The design of the rose petal carpet played off of the design of the chair backs perfectly and popped the turquoise colored programs.
Spectators anxiously await the beginning of the fashion show.  Linens were transformed into couture fashion and draped on the models backstage.  One of Scottsdale's leading wedding planners, Amy Mancuso, top right, was the mistress of ceremonies.  Carrie Smith, bottom left, is the Scottsdale representative for Wildflower Linen and was the gracious hostess of the event.  Designer Ken Heflin, Events By Show Stoppers, waits along the runway for the show to begin.
Elegant models glided through thousands of rose petals as they strolled down the 50ft. runway to the delight of the crowd.  This was very exciting, as cameras flashed and exotic music played.
All of the models were gorgeous and professional.  Who would ever have known that they were wearing linens!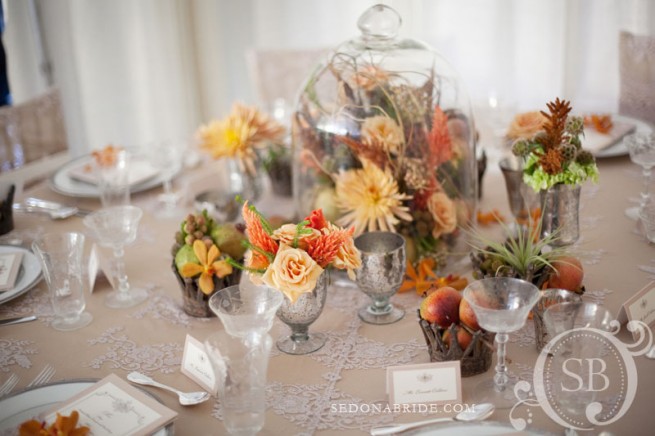 Top floral designers were asked to design table settings incorporating their favorite Wildflower Linen for the many event planners, designers, coordinators and resort event staff to enjoy.
This table was Ken's Victorian themed table.  He commented that in Victorian times, various plant and animal species were first brought to England and displayed.  The first conservatories were elaborate and held exotic pants in controlled environments.  He used a glass dome similar to the ones that were first used for clocks and fragile crafts.  He made a gorgeous environment within the dome of textured, natural elements like flowers, mosses, nuts, berries, lichen, mushrooms, vines and feathers.
Vintage mercury glass vessels were used for votives and accent flowers.  Replicas of crowns were used as additional floral details.  The vintage style linens were provided by Wildflower Linen.  Antique etched compotes and wine glasses finished the look.  The latte color scheme of the table was both elegant, understated and a realistic option for an intimate wedding or a lavish affair.
Special thanks to Youngsong and Carrie for being so wonderful to work with and to the professional models who graced the runways with their beauty, elegance and charm.