WedAZ Magazine, one of Arizona's leading wedding publications, recently approached Show Stoppers to put together a photo shoot at a Sedona venue of our choice.  All things considered, we thought Dancing Apache Lodge would be the perfect fit for the kind of design we wanted to do.  Although we had previously put together another shoot at Dancing Apache a few years ago ( for another publication ) we thought that this kind of design worked perfectly for the lovely vineyard and lodge.  So, we jumped right in and began planning the shoot and putting together the perfect team.
We had been working closely with our dear friend and publisher, Angie VanDaele, about developing a Sedona section for the publication.  Timing could not have been more perfect.  Take a look at the first Sedona Section in WedAZ magazine and the fun shoot our uber-talented team created.
THE TEAM:
Publication: WedAz
Photography:  Savidge Photography / Jessica Savidge
Location: Dancing Apache Lodge / J.B Bloomfield property rep.
Hair and Make-Up:  Sedona Beauty Team
Music:  Meadowlark
Limousine:  White Tie Limousine
Cake:  Sedona Cake Couture
Catering:
1.  Sedona Rouge
2. Mesa Grill
3. Heartline  Cafe
Rentals:  Classic Party Rentals / Deb Beggs
Paper products:  Pretty Papers
Flowers:  Ken Heflin / Events By Show Stoppers
Draping:  Events By Show Stoppers
Ribbon Flowers:  Andres Barron / Events By Show Stoppers
Design Styling Planning:  Jim Bullock / Events By Show Stoppers
Gown: Alvina Valenta / Schaffer's Bridal Salon
Tux and Bow Ties: Celebrity Tux and Tails
Officiant: Rev. Shanandoah Sterling
Our lovely models were really into the shoot and were troopers when the rain came.
We incorporated vintage parachutes for the draping on the ceiling of the gazebo.
The festive aisle decorations were made on walking sticks and incorporated ribbon streamers and huge hand-made flowers that brought out the beautiful color of the bride's eyes.
Stunning bouquet by Ken.
A romantic canoe ride on Dancing Apache's lagoon was perfect opportunity for the lead page to the Sedona Wedding Section.  We love this shot.
A fun croquet game just before the reception!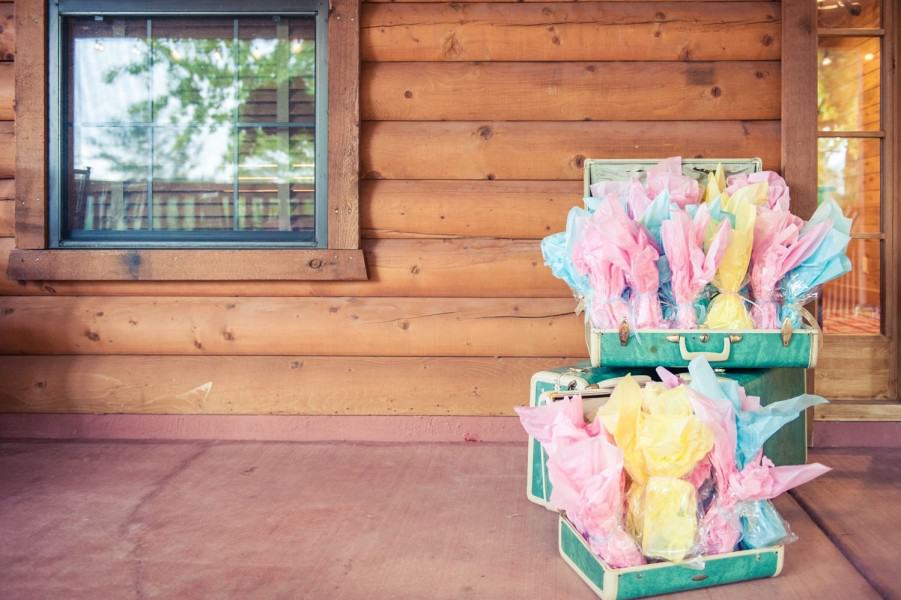 We used our vintage aqua-colored luggage to display favors for the wrap party
The gift table served double duty for the seat assignment cards.
We pushed three round tables into a cluster with an umbrella for a new twist on banquet tables.